Patience is not a virtue.
If I had a nickel for every time I heard that, I'd be broke. Bankrupt.
You know why? It's because everyone is too busy harping on about how patience in a person's character is so very important, and how good things come to those who wait.
I'll accept, that is true. Patience is an admirable quality, and yes, we all do need to be patient sometimes. Sometimes being the key word. You can't just sit back down and wait for something to happen constantly – you've got to make it happen at times.
A family member (hereafter referred to as The Patient) has been having severe health issues lately, and I've been spending a lot of my days at the hospital, keeping up with doctor's appointments. When The Patient didn't respond to the ongoing treatment program then, we looked for a second opinion, and fixed an appointment for five o'clock in the evening with another doctor. Now, I may not be the most punctual person on Earth (as my best friend knows all too well :P), but I am wary of important appointments I have to be on time for. Thus, we found ourselves in the waiting room at exactly four minutes to five o'clock, which is quite the accomplishment I'd say. 😀
There were two specialists at this particular hospital, and the one that we were supposed to see hadn't arrived yet. Upon further inquiry, and half an hour's worth of phone calls, we were informed nonchalantly that he would take another hour to arrive. We contemplated consulting the other doctor on-call, but decided against it, as we knew we were the only appointment for the doctor who went AWOL on us, and didn't want his trip to be a total waste of time.
So guess what we did?
We wasted our time, by waiting another hour. With no sign of him yet, and The Patient's pain increasing exponentially, I dared to request his estimated time of arrival. Five more minutes didn't sound too bad, so we decided to wait. After all, we'd been patient for an hour and a half already, why not three hundred seconds more?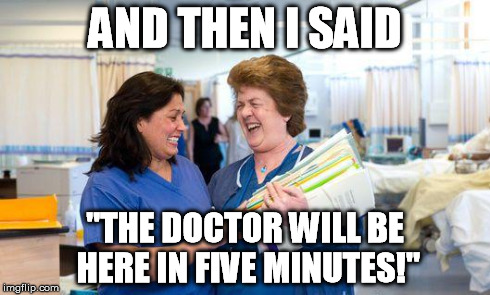 And that, folks, was our worst decision. After sitting in total silence for another twenty minutes, we were told hesitantly that we would need to wait another forty minutes.
There was no way we could do that. We told them to cancel the appointment, and after we found that the other doctor was also unavailable, walked out of there with nearly two hours lost and The Patient still suffering. After much speculation and retrospection, I realised that it was because we were too patient in the hospital. Perhaps, if we had canceled the appointment at the time of his first delay and seen the other doctor, we would have gotten some answers, and The Patient would have gotten some relief. Perhaps, if we had told them we could not wait, the doctor might have told us he would not be able to make it, and to consult someone else. Perhaps, if we had not been so patient, we might have gained, instead of lost.
And that's when I learnt that patience is not always a virtue. Sometimes, you can't be patient and bear it through the storm. Sometimes, you have to do something about it to ensure you get through. Sometimes, you have to look at your circumstances too, because as I recently discovered, there is something called too much patience.
Patience isn't always the answer, because it spars with time.
And we all know that time waits for no one….
…because it is just that much of an inconsiderate abstract concept to mess with our overly defensive heads.
Catch you later!
Niru 🙂